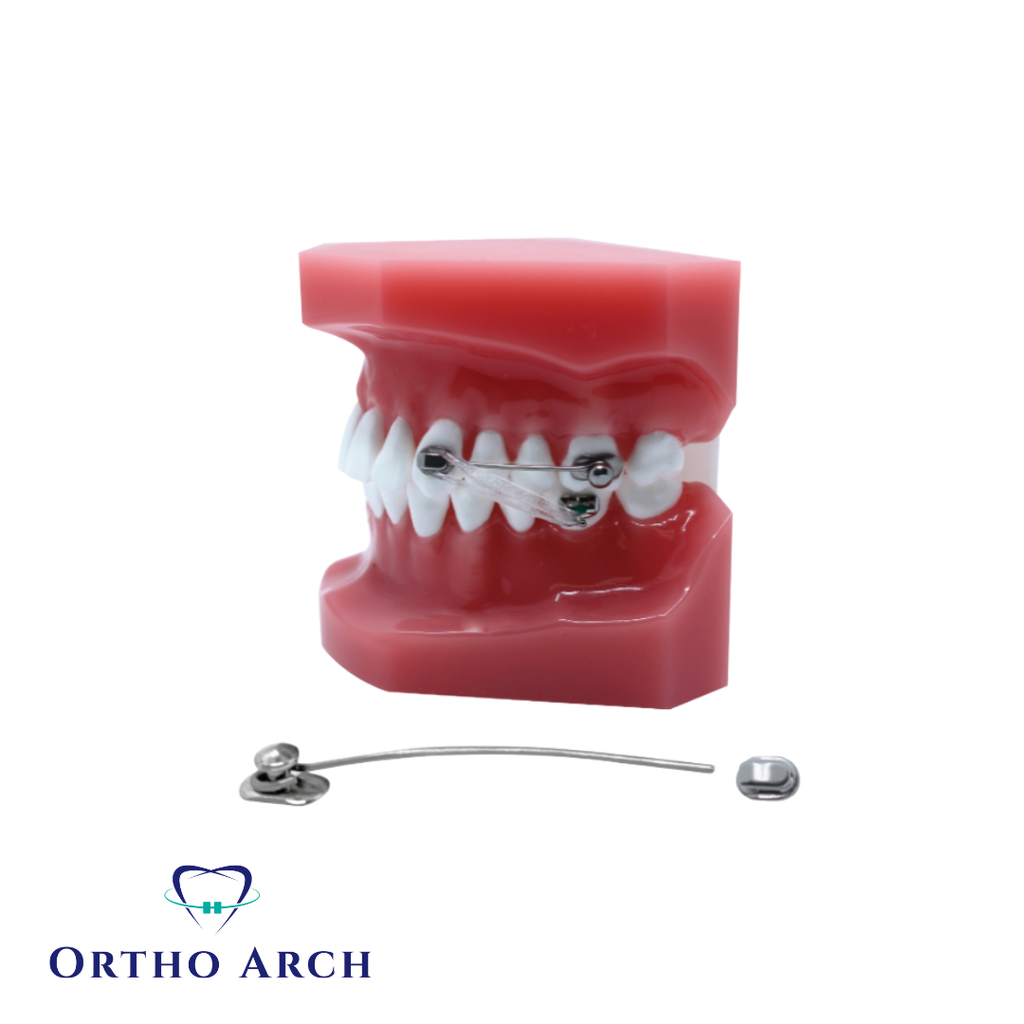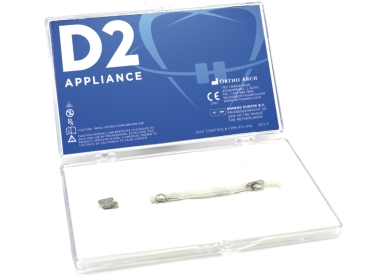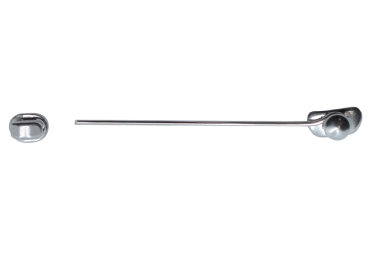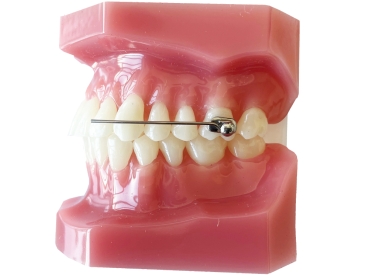 D2 Appliance
2
https://www.uportho.ro/shop/oa271-600-d2-appliance-18494
https://www.uportho.ro/web/image/product.template/18494/image_1920?unique=5b5376b
(0 review-uri)
--- Ortho Arch, companie americana fondata in 1974, este dedicata producerii si distribuirii de produse cu adevarat inovatoare. D2 Appliance, resorturile GTS - Goodman Torquing Spring si sistemul Mini-Mold sunt doar cateva din gamele revolutionare din portofoliul Ortho Arch.
---
Plata sigură online

Retur gratuit 30 de zile

Sună la 0724 129 129 pentru detalii
Arcuri si accesorii / Corector Clasa II-a/III-a
D2 Appliance
---
O singură mărime se potrivește tuturor pacienților.
Design cu profil redus pentru un confort sporit al pacientului
Pentru tratamente bilaterale sau unilaterale
Simplu de utilizat și ușor de configurat
Reduce timpul total de tratament
Poate fi utilizat în combinație cu alignere/gutiere
Patentat pentru tratamente de clasa II și clasa III
Fabricat în SUA
D2 Appliance
---
Features and Benefits

One size fits all to greatly reduce your inventory

Low profile design for greater patient comfort

For bilateral or unilateral case treatment

Simple to use and easy to place

Reduce overall treatment time 
 Patented for both Class II and Class III treatment


Corecția clasei a-II-a
Aparatul D2™ a fost dezvoltat pentru a simplifica tratamentul cazurilor de Clasa II în timpul fazei inițiale a tratamentului. 

Cu designul patentat D2™ , tratamentul devine de clasa I datorită forțelor elastice intraorale.
Molarii sunt rotiți distal în poziția dorită. 
Profitați de cooperarea pacientului la începutul tratamentului. 
Brackeții pot fi plasați în timpul sau după finalizarea corecției de clasa I.

Cum funcționează? 

Aparatul D2 este un aparat de distalizare molară alcătuit din două componente separate.

1. O componentă molară care are o talpă microsablată de tip mesh cu 80 de ochiuri pentru o retenție mai bună.

2. O bară flotanta liberă care se atașează în zona bucală a componetei distale și permite mișcare în toate cele 3 planuri și adaptarea dimensiunii în funcție de pacient.

De ce să folosești Aparatul D2?

1. O scădere a rezistenței pentru mișcarea antero-posterioară
Este nevoie de mai puțină forță pentru a deplasa un segment bucal decât un întreg arc pe aceeași distanță în aceeași perioadă de timp. 
Acest lucru se datorează scăderii rezistenței cauzate de scăderea interfeței dinte-os. 
Pe măsură ce forțele scad, există mai puțină îngrijorare pentru efectele secundare nedorite.

2. Cooperarea este cea mai bună la începutul tratamentului. 
Exista adesea o corelație între durata tratamentului și complianță, cu cât un pacientul poarta mai mult timp aparate care necesită întreținere sporită, cu atât este mai puțin probabil ca pacientul să respecte aceste cerințe. 
Corectarea ocluziei de Clasa I încă de la început reduce nevoia de motivație suplimentară sau complianță la sfârșitul tratamentului.

3. Igienic 
Cu cât este mai ușor pentru un pacient să mențină o bună igienă, cu atât mai puțin probabil se vor dezvolta inflamații gingivale sau zone de decalcifiere.
D2 are mult mai puține zone pentru care alimentele să rămână prinse și este proiectat pentru a permite o curățare mai ușoară decât multe alte aparate de Clasa II. 
Tratamentul progresează mai ușor cu dinți și gingii sănătose.

4. Rotația molară mezial-out
Peste 80% din molarii 1 superiori se rotesc mezial-in în timpul tranziției de la dentiția mixtă la cea permanentă, costând 2-4 mm în lungime de arc. 
Când al doilea molar primar maxilar este exfoliat, primul molar permanent are spațiu pentru a migra spre mezial. Pe măsură ce primul molar se mișcă mezial, segmentul bucal este predispus să avanseze mai repede datorită dimensiunii rădăcinii palatine. Aceasta are ca rezultat o rotație mezial-in centrată în jurul rădăcinii palatine. Mecanica aparatului D2 rotește molarul în jurul rădăcinii palatine recâștigând spațiul pierdut.

5. Scade timpul de tratament cu aparatul dentar. 
D2 poate fi folosit cu sau fără brackeți. Când se folosește un arc lingual inferior, un TAD cu buton sau un retainer cu buton, timpul de purtare al brackeților este diminuat semnificativ deoarece pacientul devine un caz de Clasa I mai degrabă decât de Clasa II. Clasa II poate fi corectată și în combinație cu alignere.

6. Simplu și puternic
D2 este compus doar din două părți. Purtarea elasticelor de către pacient ține cele două părți strâns împreună.
Economiseste timpul de scaun și cheltuieli de laborator. Padurile microgravate de o dimensiune mare oferă o rezistență și aderență excepțională. 
În cazul unui accident în care aparatul se rupe, acesta poate fi reparat de către medic fără să fie nevoie să fie trimis în laborator. D2 este, de asemenea, discret și mai puțin voluminos decât majoritatea celorlalte aparate.

7. Cu adevărat universal
Fiecare aparat D2 se potrivește atât pe partea dreaptă cât și pe partea stângă. În plus, o mărime se potrivește cu adevărat tuturor. Lungimea barei este ajustată înainte de cimentare pentru a se potrivi oricărui pacient. Acest lucru reduce drastic cerințele de stoc, deoarece diferite dimensiuni nu trebuie să fie stocate. Această bară este conturată la forma arcadei cu o îndoire de 10-30 de grade plasată la capătul molar pentru a adăuga rotația molară mezial-out. Este marcat și tăiat la lungimea adecvată pentru fiecare pacient. Componenta distală este apoi legată. Componenta anterioară alunecă pe capătul barei și este legată de canin sau premolar. Purtarea elasticelor permanent este prescrisă de la componenta anterioară până la molarul inferior. Ancorajul inferior poate consta din brackeți, un buton molar colat și gutieră de contenție (sau Aligner) sau un buton molar colat și mini-implant.
​
Vizitele pacientului sunt programate la intervale de 8-12 săptămâni. Adulții pot beneficia și de varianta de colare a primului premolar maxilar în legătură cu al doilea molar în locul caninului de primul molar. O rotație suplimentară a molarului mesial-out poate fi obținută prin creșterea îndoirii la capătul molarului folosind un clește 3 Jaw, la orice vizită de control. Aparatul este purtat de obicei 4-6 luni. Poate fi folosit și în cazurile ușoare de Clasa III prin colarea D2 pe arcada inferioară.

Simplifying Class II Correction
The D2 distalizing appliance was developed to simplify treatment of Class II cases during the initial stage of treatment. The patented D2 design treats to a Class I platform by the intraoral elastics forces. Molars are distal rotated into their desired position. Take advantage of early treatment patient cooperation. Brackets can be placed during or after the Class I correction is completed.

HOW IT WORKS

THE D2 APPLIANCE TAKES ADVANTAGE OF DECREASED RESISTANCE, MAKING MOVEMENT EASIER AND FASTER.

D2 APPLIANCE IS A MOLAR DISTALIZING APPLIANCE COMPRISED OF TWO SEPARATE COMPONENTS THAT ATTACH WHEN BONDED ON THE TEETH. THE MOLAR COMPONENT HAS A LARGE, MICROETCHED, EIGHTY GAUGE MESH PAD TO MAXIMIZE BOND STRENGTH. A FREE-FLOATING BAR COMES ATTACHED TO THE BUCCAL OF THE DISTAL COMPONENT WHICH ALLOWS FOR MOVEMENT IN ALL THREE PLANES AND CUSTOM SIZING TO FIT ALL PATIENTS. 


THE D2 APPLIANCE TAKES ADVANTAGE OF THE FOLLOWING:

1.A decrease in resistance for AP movement. Less force is needed to move a buccal segment than an entire arch over the same distance in the same period of time. This is due to the decreased resistance caused by decreased tooth:bone interface. As forces decrease, there is less concern for unwanted side effects. 

2.Compliance is best early in treatment. There is often a correlation between length of treatment and compliance. The longer a patient is in appliances that require increased maintenance, the less likely it is for the average patient to comply with those requirements. Correcting to a Class I occlusion early reduces the need for additional motivation or compliance late in treatment. 

3.Hygienic. The easier it is for a patient to maintain good hygiene, the less likely gingival inflammation or areas of decalcification will develop. The D2 has significantly fewer areas for food/debris to become trapped and is designed to allow easier cleaning than many other Class II appliances. Treatment progresses more easily with healthy teeth and gingiva. 
4.Mesial-out molar rotation. Over 80% of upper 1st molars rotate mesial-in during the transition from mixed to permanent dentition costing 2-4mm in arch length. When the maxillary primary second molar is exfoliated, the permanent first molar has space to migrate to the mesial. As the first molar moves mesially, the buccal segment is prone to advance faster due to the size of the palatal root. This results in a mesial-in rotation centered around the palatal root. D2 mechanics rotate the molar around the palatal root regaining lost space. 

5.Decreased time in braces. The D2 may be used with or without braces as anchorage. When a lower lingual holding arch, TAD with button, or overlay retainer with button is used, the amount of time in brackets is diminished significantly because the patient becomes a Class 1 case rather than Class II. Class II may also be corrected in combination with Invisalign. 

6.Simple and Strong. There are only two parts to the appliance. Elastic wear by the patient keeps the two pieces tightly together. It is easily fit chairside saving lab time and expense. The larger than normal microetched pads provide exceptional bond strength. If breakage should occur, the appliance can be rebonded chairside without lab intervention. The D2 is also unobtrusive and less bulky than most other appliances. 

7. Truly Universal. Each appliance fits both the right and left side. In addition, one size truly fits all. The bar length is adjusted prior to cementation to fit any patient. This dramatically reduces inventory requirements since different sizes do not need to be stocked. This bar is contoured to the archform with a 10-30 degree bend placed at the molar end to add mesial-out molar rotation. It is marked and clipped at the appropriate length for the individual patient. The distal component is then bonded. The anterior component slides onto the end of the bar and is bonded to the cuspid or premolar. Full-time elastic wear is prescribed from the anterior component to lower molar. The lower anchorage may consist of lower brackets, a bonded molar button and overlay (or Invisalign), or a bonded molar button and TAD. 
​
Patient visits are scheduled 8-12 weeks apart. Adults may benefit more quickly by bonding maxillary 1st bicuspid to 2nd molar instead of cuspid to first molar. It is important to consider the amount of resistance and relative anchorage to determine appropriate force. In general, 1/4" 4oz elastics are sufficient to move teeth when maxillary 2nd molars are not fully erupted. If 2nd molars are fully erupted, 3/16" 4oz may result in better movement. Additional mesial-out molar rotation may be obtained by increasing the bend at the molar end using a three-prong plier at any routine check visit. The appliance is usually worn 4-6 months. It can also be used in mild Class III cases by bonding the D2 on the lower arch. Sample Class II case below before Invisalign treatment: Photo on right taken at 2nd visit. Appliance was removed at this appointment and the patient was scanned for start of Invisalign.